Fabienne Klein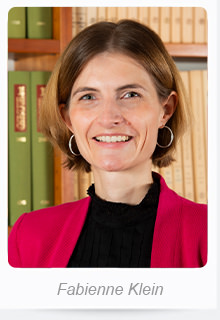 French trade mark and design Attorney


European trade mark and design Attorney

Fabienne Klein studied law at Robert Schuman University in Strasbourg. She obtained her Master 1 (civil law) from the university's faculty of law in 2007 and her Master 2 (intellectual property, contracts, technology transfer and competition law) from C.E.I.P.I. in Strasbourg in 2008.
Fabienne then completed her three year's practical training as a French trade mark and design attorney. In July 2012, after passing the examination, she was admitted to practice as a French trade mark and design attorney (Conseil en propriété industrielle) specializing in trade mark and design law. She is also a representative before the European Union Intellectual Property Office (EUIPO) in Alicante, which is responsible for registering trade marks and designs valid throughout the EU.
Fabienne has dual German and French nationalities. In addition to German and French, she speaks English and has good knowledge of Spanish.